Preservation
Already while excavation was in progress, a change of the General Urban Development Plan of the Municipality of Rome (fig 01) allowed the preservation of about 300 square meters of the achaeological deposit (fig 02), where a road was planned.
After the end of the excavation, in 1986, the archaeological area was covered with a layer of expanded clay and gypsum to avoid its natural deterioration (fig 03). Another temporary protection was then made with wood and corrugated plastic, pending a definitive protection building.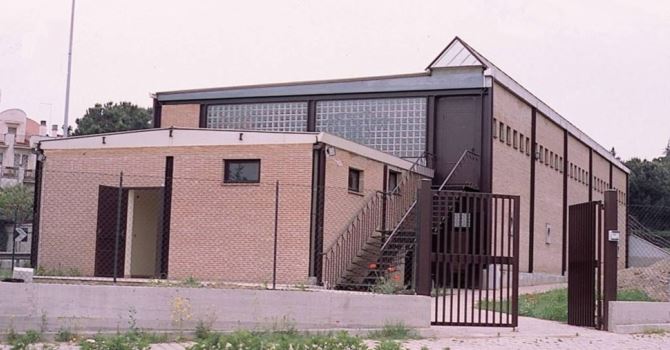 The first permanent deposit cover project dates back to 1985. The structure, designed by G. Morganti (Archaeological Superintendence of Rome), was conceived in function of the primary need to protect the deposit from atmospheric agents and vandalism (fig 04).
In 1987, with resources granted by the Province of Rome, a first lot of works was carried out, with the technical direction of the Archaeological Superintendence of Rome.
But, in the following year, at their conclusion, the site was for a long time neglected, and even occupied by homeless people (fig 05).
Dates back to this date an agreement between institutions, namely between the State, represented by the Archaeological Superintendence of Rome, and the Municipality of Rome (the owner of the area) in the figure of the Superintendence Capitoline for Cultural Heritage.
This agreement delegated to the owner (Municipality) the creation of a museum on the site.
Unfortunately, the transfer of deliveries between agencies and, in particular, the return of the yard area from the Province of Rome to the State and consequently from the State to the Municipal Superintendence takes place after 8 years, in 1996.
A general cleaning and retrieval of the area was done immediately, employing the professional figures of the POLIS Project (Interregional project for socially useful workers and for long-term unemployed people) (fig 06).
In the meantime, the original project was renewed by architects T. Rinaldi and G. Barella of the Municipality of Rome (fig 07), which insert new external exhibition areas and also adapt the built to the wheelchair accessibility laws.
The works takes place in 1999 and ends in January 2000 (fig 08).
In 2001, from March to September, restoration works are carried out, according to a plan specifically drawn up in partnership with the Central Institute for Restoration.
This action concerned both the soft rocks that make up the bottom of the river, and the faunistic finds that were in situ (Fig 09 and Fig 10).
Therefore in 2001 the essential actions for the site protection were done.
Since then many monitoring actions on the geological deposit and fauna remains are followed over the years. Treatments of dusting and dehumidification are carried out, on a semi-annual basis, by the staff of the conservation area of Zètema.
Stronger consolidation and restoration operations were then carried out in the year before the museum opening (2014/15) on some of the large fossil finds kept in the deposit (fig 11 and fig 12).
01: The variation of the General Urban Development Plan of the Municipality of Rome
02: Excavation area: highlighted the preserved portion of the archaeological deposit in the present-day museum
03: After the excavation the deposit was protected with expanded clay and gypsum
04: G. Morganti's cover project
05: The site in total state of neglect in the late '80s
06: the retrieval yard in 1996
07: The 90s plan
08: The completed cover building in 2000
09: Tuff blocks restored
10: In situ finds restored
11: Two big tusks before restoration
12: The elephant  tusks restored and reassembled in 2015